Many women today care a lot about the vulnerable and sensitive skin of their hands. With the help of paraffin therapy, many hand problems can be solved and they can be shown to be young and fresh. Paraffin therapy is a simple and new treatment that is very useful for relieving muscle pain, joint pain, hand and foot pain, and at the same time it can help to rejuvenate and soften the skin.
It is a new treatment that is performed in some beauty and treatment centers and as it comes from the properties of paraffin, it is related to its (the) heat and calorific value which can be effective in relieving pain in hands, feet, joints and muscles. While this warming can create beautiful, soft and smooth skin at the same time and therefore has non-therapeutic uses also.
This is very easy to do and you can do it yourself at home, but doing it in a professional beauty salon or clinic can provide you with more comfort.
Due to the different benefits of using paraffin therapy, it can be followed (found) in different centers. From pain relief clinics to nail manicure centers, skin beauty salons and spas. They all can offer paraffin therapy services.
Paraffin therapy has various benefits including increasing blood circulation, relieving pain and inflammation in joints and … , relaxing muscles, treating dry skin and reducing problems such as roughness, calluses, cracks of the skin.
When paraffin heats up, it has the power to store heat and gradually transfer it to the environment. When paraffin is heated and puts the liquid on a part of the skin of the hands, feet or face, it does not cool down quickly and transfers the heat completely to the skin. This heat reaches deep into the skin or muscles and therefore increasing blood flow.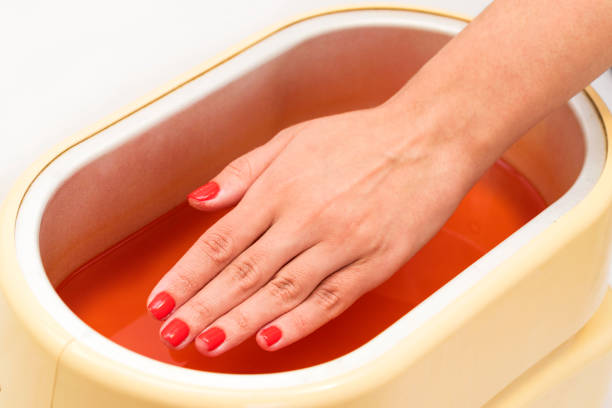 Increased blood flow will make the area fresh and succulent very soon. It will heal the injuries and the pain in the body. In addition, placing warm paraffin on the skin has a great effect on skin rejuvenation and helps to have softer, clearer and brighter skin.
Powered by Froala Editor