Today, many large and well-known companies are looking for new interior design ideas to create a safe, quiet and eye-catching environment for employees and customers; In the meantime, instead of spending money on designing luxurious and glamorous elements, many companies have gone for the creative and attractive idea of a living wall.
Urban spaces are full of dull and lifeless modern colors, so seeing the elements of nature conveys a great sense of joy and vitality to urban people; Living walls unlike other city walls, are covered with living plants that you can see life and greenery throughout them.
You can start a living wall business anywhere in the world.
These walls have found a lot of fans and many different and creative models have been designed based on this idea.
Their irrigation methods are different and they can have different range in terms of plant arrangement and raw material type.
Irrigation of living walls
Some have used shelf arrangement and placing pots at regular intervals on the shelves and have implemented the irrigation system through piping inside the nets themselves, while others have placed the pots at an angle to be hidden while covering the whole wall.
These vertical gardens are very compact and require less soil, so they naturally need to be watered more often, therefore drip irrigation is the best way for them.
There are drip irrigation systems from the most sophisticated state with hose and timer to the simplest state where the hose is placed at the end of the box and water droplet enters. Also, when using separate pots for planting, you can use a sprinkler for irrigation, you just need to make sure that the water is evenly distributed.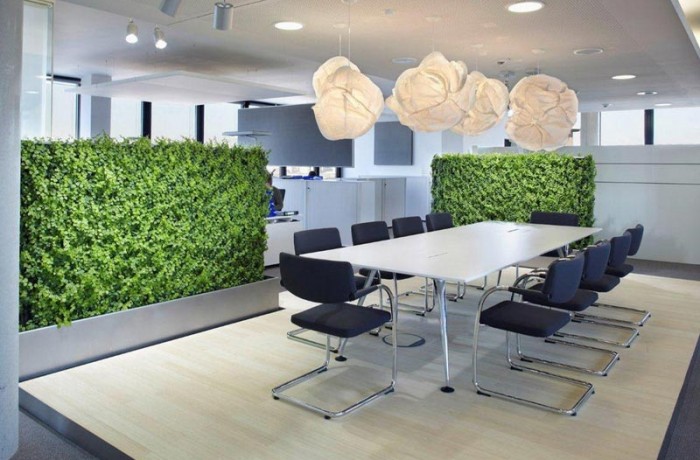 What do you think about this architectural and environmental business idea? Don,t you think the presence of green and live plants, create a different atmosphere into the work spaces?