Preventing the flu is far better than treating it. Good health habits, can help prevent germs from growing. The best way to prevent seasonal flu, is to get vaccinated each year, but good health habits such as covering your head and face and washing your hands, can often help prevent germs from spreading and can also prevent respiratory illnesses, like the flu.
Influenza is an acute and highly contagious respiratory disease that kills thousands of people worldwide each year, and despite extensive investment and research, is still uncontrolled.
Avoid Close Contact:
Avoid close contact with people who are ill. When you are sick, keep your distance from others to protect them from getting sick.
Stay Home When You Are Sick:
If possible, avoid going to work, school, and … when you are ill. This will help prevent your disease from spreading to others.
Cover Your Mouth And Nose:
When coughing or sneezing, cover your mouth and nose with a cloth. This may prevent those around you from getting sick. Influenza and other acute respiratory illnesses, such as respiratory infections, pertussis, acute respiratory syndrome, are spread by coughing, sneezing, or infected hands.
Clean Your Hands:
Washing your hands often, helps protect you from germs. If soap and water are not available, use an alcoholic detergent.
Hand Washing:
Clean hands save lives. Promote hand washing tips and the use of alcohol-based hand sanitizers in school to prevent students from missing classes.
Avoid Touching Your Eyes, Nose Or Mouth:
Germs are often spread when a person touches something that is contaminated with germs and then touches their eyes, nose or mouth.
Practice Good Health Habits:
Cleaning and disinfecting most surfaces at home, work or school is particularly important, especially when someone is ill. Sleep well, be active, manage yourself, drink plenty of fluids and eat nutritious foods.
Prevention Of Flu At Work Or School:
Find out from the child care program, whether there is an outbreak of flu or any other diseases. Is the flu vaccine available on the site or not? Be sure to do this for the health of your child.
Make sure your child′s school, attends to your child care program, or regularly cleans objects and surfaces at your child's college, and whether they use paper towels, soap, alcohol wipes, and etc or not. Ask sick students and staff to stay home and take care of themselves as long as they can.
Prevention Of Influenza At Work:
Make sure your workplace has adequate supplies of paper towels, soaps, alcohol wipes, and ... .
Teach others how to do their homework so that you or a family member does not get sick.
If you feel unwell while working, return home as soon as possible.
Health Tips To Prevent The Flu
Get Enough Sleep
Adequate sleep not only keeps you awake and alert throughout the day, but also helps keep your immune system strong.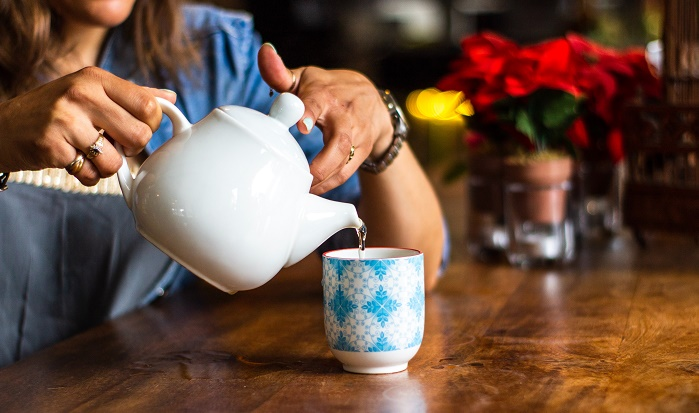 Drink Water
Drink 8 glasses of water daily because drinking water cleanses your body system and is necessary to maintain a healthy diet.
Be Sensitive To The Use Of Personal Items
Avoid multi-person use of glasses or other food containers, especially when you notice symptoms of flu in the other person.
Closed Environments
Closed environments such as offices and buses are a good place for germs to grow, so if you see someone sneezing in these environments, stay away from them and be sure to wash your hands with soap and water as soon as possible.
Exercise And Avoid Stress
By exercising, in addition to increasing your body strength, you also strengthen your body's defense system. Also, having stress is not good for health at all.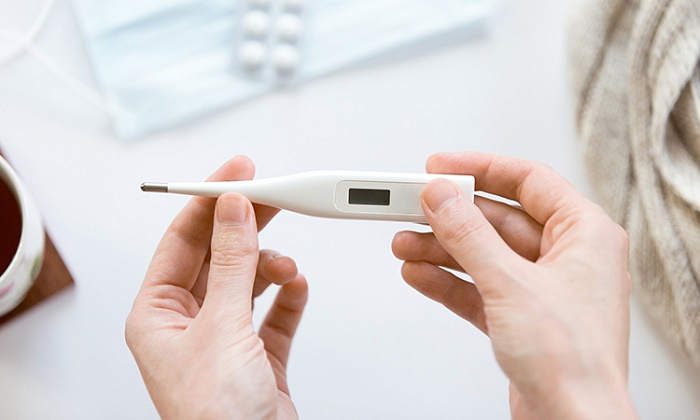 Foods and nutrients that help recover from the flu include:
Chicken Soup
Ingredients for chicken soup make the body fight germs stronger and reduce the risk of getting sick. Chicken soup also clears the nose and throat and makes breathing easier. Other soups, such as vegetable soups, have similar benefits too. These soups, in addition to being nutritious, are easy to digest and can be easily prepared. They also contain water and increase hydration.
Foods Containing Vitamin C
Fruits and vegetables that contain vitamin C can boost your immune system. High levels of vitamin C can be found in the following foods:
Hot or sweet peppers of any color, orange or orange juice, kiwi, citrus fruits like lemon, blueberry, red or purple, purple or red .grapes, raw broccoli, leafy and raw vegetables
Many fruits contain vitamin C, an excellent source of flavonoids that have many health benefits. Flavonoids, for example, reduce the risk of respiratory problems and infections.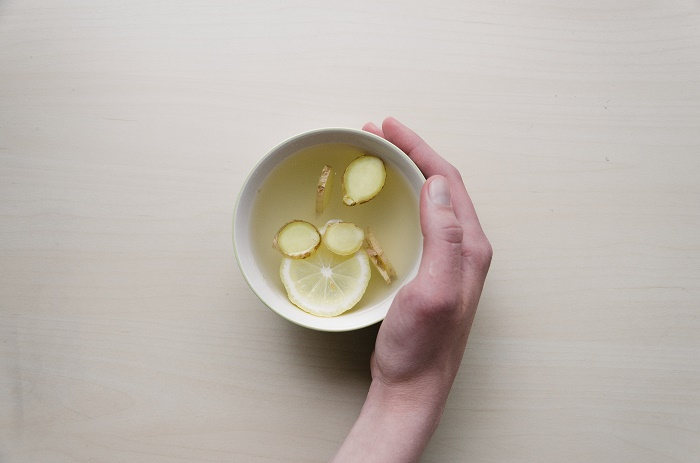 Garlic
Garlic has antiviral and antibacterial properties. It helps to improve the immune system and fight infections such as the flu and colds.
Ginger
Ginger eliminates conditions such as nausea in the flu, the properties of ginger improve the function of the digestive system. It is also effective in relieving nausea during pregnancy.

You can add very little ginger powder to your meals or pour it in hot water, honey and lemon to make a herbal tea.
The Vegetables
Vegetables contain a lot of fiber that improves digestion and also contain nutrients, such as:
Vitamin c
Iron
Folic acid
These substances have antibacterial and anti-inflammatory properties and heal the body faster.
Yogurt
Yogurt contains live bacteria that help a person fight the flu, and is also a rich source of protein. Of course, it should be noted that some people with the consumption of dairy products, have an increase in sputum, which exacerbates the symptoms of the flu in them and should be avoided.
liquids
Water :
The kidneys use water to flush out excess body material. Drinking enough water speeds up a person's recovery.

Coconut Water:
Coconut water contains potassium, sodium and chloride. Drinking coconut water helps the body replenish electrolytes lost through sweating, vomiting and diarrhea.
Hot Water With Honey, Lemon And Ginger:
Ginger in this drink reduces nausea in a person.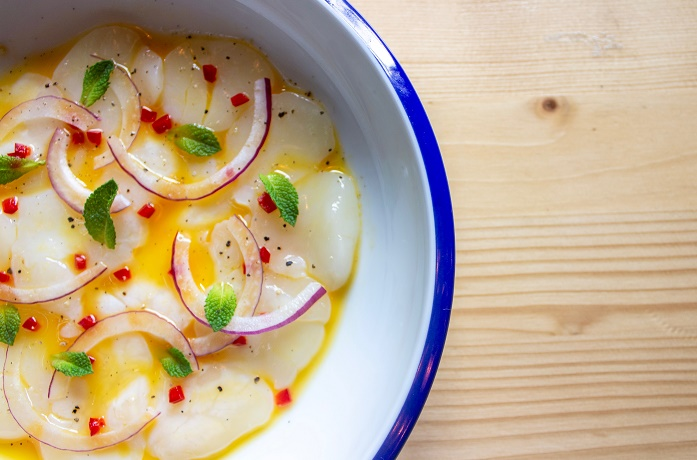 Herbal Infusions
Some herbal teas, have healing properties. For example, a decoction of mint or peppermint or rosemary extract, reduces respiratory complications, especially cough, and borage decoction is effective in reducing fever. Ginger tea, has a very beneficial effect in the treatment of colds and flu due to its warm nature and antimicrobial properties.
Spices
Be careful when consuming spices during illness. Consumption of some spices, especially spicy ones, can provoke a cough, so it is better to avoid consuming them until the end of your illness. But if you do not provoke a cough, you can use pepper in cooking to cure the flu due to its warm nature. Consumption of garlic, also strengthens the immune system and turmeric has an antimicrobial effect.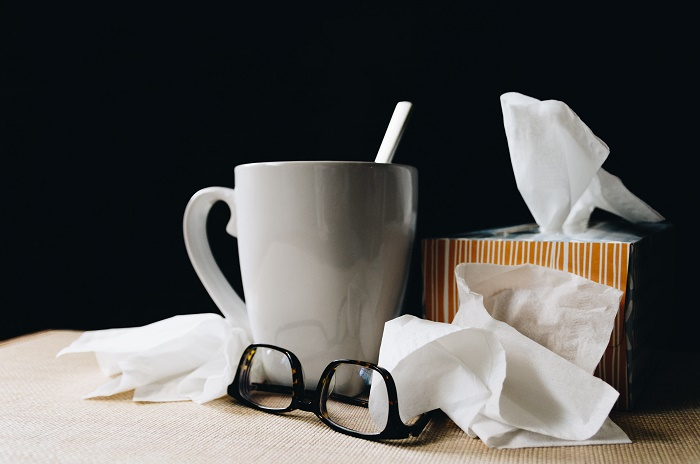 Avoid Eating These Foods During The Cold:
Processed Foods:
These foods are high in salt, which absorbs water and sugar, which in turn increases inflammation.

Fried And Dried Foods:
Too hard and fried foods with sharp edges can scratch a person's throat and make it worse, such as french fries and other fast foods.